Ever had a day where you absolutely needed to laugh?
Or hear an encouraging word from someone?
I'm definitely having one of those kind of days.
It's certainly gotten better though, so that's good.
On a different note, I visited the ol' Barnes and Noble yesterday
and purchased a new book by one of my favorite authors
in Christian Fiction, Denise Hunter.
Driftwood Lane
Not a bad read from what I got through this morning before work.
The preliminary story is forming nicely, as per usual in DH's books.
Also saw a new book called Emma and the Vampires.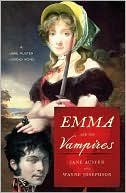 And let me go ahead and say, yes, this is Jane Austen's Emma with vampires.
There is also Paul is Undead,
a book about the Beatles as zombies
I've added them to my reading list.
I'm hoping this afternoon I can get back
into my regular schedule of walking/biking.
I planned to wake up this morning at 5:45am,
but that didn't happen...haha.
Hope you're having a great Tuesday.